Cook Riolo Road Pathway Project
Roseville, CA- On Oct. 11, the Cook Riolo Road Pathway Project will be unveiled at Creekview Ranch School located in Roseville. The project is not just a success for the school district, though – it's a model for anyone who wants to effect change in their community.
Diane Howe has a long history in Placer County. Both her children and her children's children have gone to school here. When Creekview Ranch School opened, Howe was excited to see her grandchildren attend. But one day when driving to the school, she noticed there was no pathway that allowed for children to safely walk to the school.
---
"Children were either walking on the road or in the field next to the road," she recalled. "Not only did it make walking to school unsafe, it made the option of riding a bike to school virtually out of the question." Howe further speculated on the strain this put on the local traffic. "There were more people on the road, because people felt like they couldn't allow their children to walk or bike to their local school."
---
Howe moved to help make a change. She worked with her community to collect over 200 letters in support of the project. She made a few calls and ultimately was connected with Placer County Department of Public Works and Facilities.
The county immediately saw the need, but the question was how to get it done. "The process took some time to secure the funding and ensure the project was in compliance with current design standards," said Placer Public Works and Facilities Director Ken Grehm.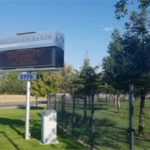 The pathway is approximately 4,300 feet long and is located along the east side of Cook Riolo Road from Creekview Ranch Middle School north to Baseline Road. The typical width of the pathway is 8 feet. Placer County, in coordination with Caltrans, ultimately received a grant to start construction on this needed community project.
Cost $2.9 million
The project cost approximately $2.9 million and funding was received from a combination of Federal Congestion Mitigation and Air Quality (CMAQ) funds, Regional Surface Transportation Program (RSTP) funds and local road funds.
---
"One may ask what it might take for a county to complete such a project. It is important to note that these processes do take time. Often we need to find funding, then work our way through the process of designing, permitting and contracting, which can be lengthy, " explained Grehm. "We are honored to have worked with the community to get this project done."
---
After years of hard work, patience and persistence, the Cook Riolo Road Pathway Project is complete, and will be unveiled this week in a ceremony at the school.
---
"I am over-the-top excited," said Howe. "With school just starting again, the community excitement has been overwhelming. It's an absolutely incredible project, and it is what is right for the community and for the kids."
---
Stephanie Herrera works in Placer County Communications and Public Affairs Office
Roseville Today is locally owned & community supported.
(20+ years strong)
Welcome to the brighter side!