Hustle and bustle to the tranquil edge of Placer County
Roseville, Calif.- Starting off alongside the bustle of traffic on Foothills Boulevard, this 14-mile plus paved roundtrip takes cyclists from a noisier, highly trafficked part of town to the quiet, far reaches of Placer County along Dry Creek. Let's go Biking Roseville!
The trailhead on Foothills can be accessed via the sidewalk just north of Allegria Apartments. If you will be driving to this location for a roundtrip, parking near Jalisco Grill or Flour Dust Pizza offers a fun opportunity for a tasty post ride bite and drink. Also be prepared for abundant sunshine! Cyclists will be exposed to the sun for the better part of this journey, so plan accordingly.
"The Ride"
Heading west, the beginning section of the ride is a straight and open shot that parallels towering power transmission lines toward Woodcreek High School and Mahany Park. Once you reach Woodcreek Oaks, hang a left and continue to Cook Riolo Rd. (~1 mile). Cross over Baseline and the paved bike/walking trail continues on Cook Riolo. At this point a more rural vibe kicks in as older homes and larger properties dot the landscape. Once you reach the traffic light at Creekview Ranch School, cross over to the westside and pick up the paved trail.
Fun facts
Within a short distance, you'll cross over Cook Riolo Bridge. This bridge opened in 2014 to replaced a one lane structure that was prone to flooding and includes a dedicated large bike and pedestrian crossing!
Entering Dry Creek Park
Almost immediately after crossing Cook Riolo Bridge, the trailhead to enter the backside of Dry Creek Park begins on your right. This route will take you all the way to Watt Ave. For the more adventurous, there are off-road opportunities the take cyclists along the creek and provide ample shade.
For those looking to add and extend the journey, check out Dry Creek Park Trails and discover a variety of nearby parks and riding opportunities.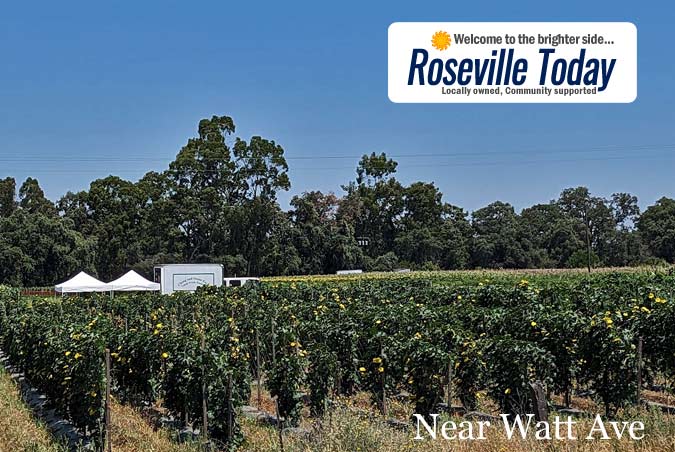 Caveats
While this section of town offers the best off road opportunities, cyclist should be aware that some trail sections are extremely narrow and some small hazards such as protruding stumps require a little extra attention.
Goat head stickers are abundant during summer and easily puncture tires. We learned the hard way to pay closer attention to this seemingly omnipresent tire threat. Keep your repair supplies handy!
As you approach Watt Ave, you'll encounter some new developments and parks along the edges before slipping back into relative cycling obscurity as you follow Dry Creek westward. Once you reach the end, it's time to turn around and retrace your route.
Biking Roseville celebrates the community's exceptional trail system and great outdoors. For many of us, it stands as a leading factor in what makes Roseville an amazing place to live. Welcome to the brighter side!
Why We Love It!
Shorter or longer ride options
Entire trail to yourself during certain times of day
Abundant sunshine
Wildlife viewing
Parks
Roseville Today is locally owned & community supported.
(20+ years strong)
Welcome to the brighter side!