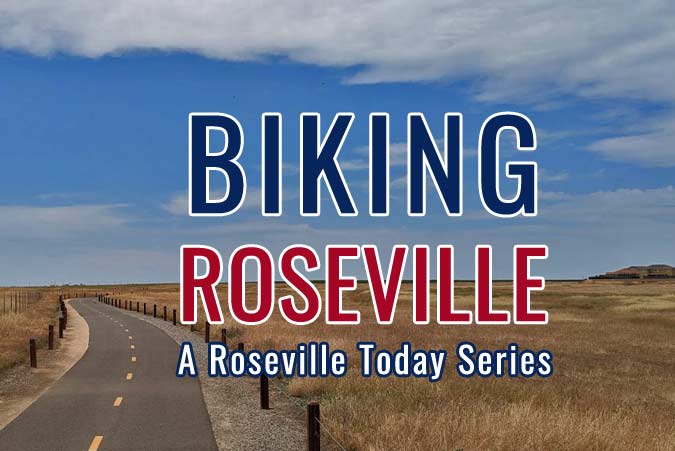 Trek through beautifully manicured trails to the less developed reaches of town
Roseville, Calif. – Among the easiest of trail rides in Roseville due to its flat terrain, this segment of trails in west Roseville is a popular, year-round recreation magnet for residents of all ages. With plenty to see and do along the way, fill your water bottles, inflate your tires and gear up for fun. Let's go Biking Roseville!
Finely integrated into master planned communities of west Roseville, this ride cruises past multiple parks, modern schools and expertly manicured trails seemingly in eternal bloom before they finally give way to wide open spaces and quiet stretches of trail where you can often find a little solitude. The spectacular views and new trail segments continue to draw us back.
Plan Ahead??
If you prefer riding in a loop, we suggest a little planning ahead with Google Maps and a Roseville Trails Map (pdf). You can create some terrific loops of 10-20 plus miles if you don't mind some brief street riding as not all trails are contiguous. For shorter rides or if you have young riders, there still is more than enough to enjoy by sticking to the trails.
Start / End Out
Festersen Park, located on Village Green just off of Fiddyment offers a convenient start/end point. Parking on Ivy Bridge provides easy trail and restroom access. Ride with extra caution as you pass nearby parks and schools as children are wandering about and enjoying those magical, carefree moments of youth. With multiple parks and access points along the route, its easy to choose an alternate starting point that works best for you.
Made in the Shade
Depending on your route, this ride provides easy access to multiple community parks as you explore the western suburbs. They provide convenient opportunities along the way for either a quick pitstop or an extended stay that might include a picnic, sports or playground fun.
Sunsets & snow-capped Sierra Nevada
Once you leave the shade and comforts of the community parks, this ride includes lots of open space which offers little to no protection from the searing heat during warmer months, so plan accordingly. The trail winds its way west past the edge of development before it bends back east.
The open space on this trail affords visitors the opportunity to take in expansive, unobstructed westward views that are ideal for sunsets and getting a firsthand view of impending weather changes. The trail then arcs back eastward to offer up brief glimpses of the snow-capped Sierras on clear days.
Circle Back, Loop It or Keep Going?
The trail technically ends once it reaches Westbrook Blvd near Blue Oaks. For those sticking to trails, simply circle back to your starting point.
However, for those looking to extend their ride, connecting into the beautiful Pleasant Grove Creek Trail just on the other side of Blue Oaks is a snap. Consider taking the Pleasant Grove Creek Trail to Hayden Parkway to Greatfield Drive which will take you directly back to the starting point at Festersen Park in a convenient loop.
Riders have countless options, so go explore and craft a route that suits you!
Remarkable Contrast
One of the great strengths of Roseville trails reside in the remarkable contrasts contained within, both individually and collectively. Each ride presents something uniquely different and new. Spending time on the trails only grows our appreciation for one of California's great places to live and explore. In our view, it all comes together best when Biking Roseville!
Roseville Today is locally owned & community supported.
(20+ years strong)
Welcome to the brighter side!