Stunningly Perfect New Jersey Vacation
Toms River, NJ – "You can shake the sand from your shoes, but it never leaves your soul." A quote on a last minute souvenir purchase was another reminder of our roots as we closed out a stunningly perfect two-week long vacation along the New Jersey shore with family and friends. (A huge thanks to my sister and her husband for the luxurious accommodations)
Nearly three decades after packing our hopes and dreams to begin life anew in the west, the time had finally arrived to bring our family home. Our three grown children brimmed with excitement and uncertainty about the weeks that lie ahead. As our plane made its final descent overlooking the New York City skyline across the Hudson, in feudal allegiance we blared, Motley Crue's Home Sweet Home through our headphones. The emotional moment caught us off guard as we began our incredible homecoming that was chock full of smiles and laughter along with a few tears.
Fresh Perspective
One of the great joys in returning home after many years is the ability to see things from a fresh perspective. Here's our Top 7 list of why New Jersey is such a great place to visit.
Top 7 Reasons We Love New Jersey ♥
1- The People
Tough, crazy, boisterous and impatient, but in that friendly, "have-your-back" kinda way. They don't tolerate BS very well and gladly call each other out on it any chance they get.
2- The Food
Incredibly delicious on all fronts and even better than we remember. We ate too much pizza.
3- The Beaches
Better than California's in many aspects. Sorry. Simply, some of the best beaches in the United States. It's true. Soft sand, clear water, ocean water temps in the mid 70's and swimming with pods of dolphins and stingrays. If only summer and great weather lasted all year.
Favorite: Island Beach State Park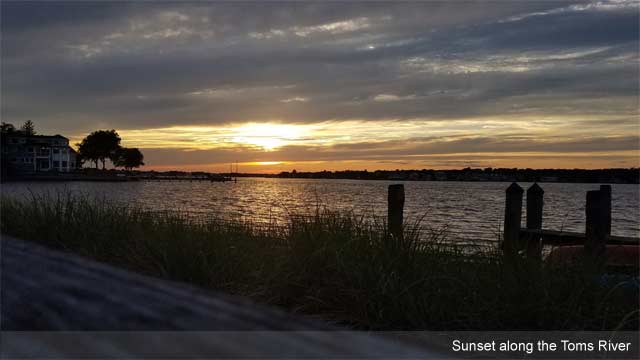 4- Things to Do
Endless opportunities for kids and adults. One of the great benefits of visiting or living in the country's largest metropolitan area is convenient access to almost every imaginable form of entertainment and recreation. Cities, beaches, boardwalks, water activities, sports, clubs, the list goes on. A fantastic place to grow up.
5- Sports
A region of countless national championships from the Big Leagues to Little League World Champions, sports fans and participants are hardcore. Just steer clear of any argument involving local sports teams.
6- New York, Philadelphia and more…
Growing up with almost equidistant access to New York City, Philly and Atlantic City makes parts of New Jersey the ideal launching pad for concerts, sports, city life, and gaming. The best of all worlds.
7- Boardwalks
New Jersey is the indisputable champion of boardwalks. Miles and miles of them line the Jersey Shore and attract visitors year-round.
Bonus# 8- Pine Barrens
Over a million acres of heavily forested coastal plain which sits atop the 17 trillion gallon Kirkwood-Cohansey aquifer containing some of the purest water claimed in the United States. A recreational paradise where you can easily disappear…on trails and dirt roads that lead to nowhere. Some say the Jersey Devil still lurks around these parts.
Yes, we're all now thrilled to be back home in California and while we may have shaken it from our shoes, New Jersey will never leave our soul.
To learn more about the Garden State, visit https://www.visitnj.org/
Staying Local
Destination Coverage
Now scheduling future travel & destination coverage.
We go where we ♥, we love where we go!
Live light, travel light, spread the light.
Get in touch here
Roseville Today is locally owned & community supported.
(20+ years strong)
Welcome to the brighter side!