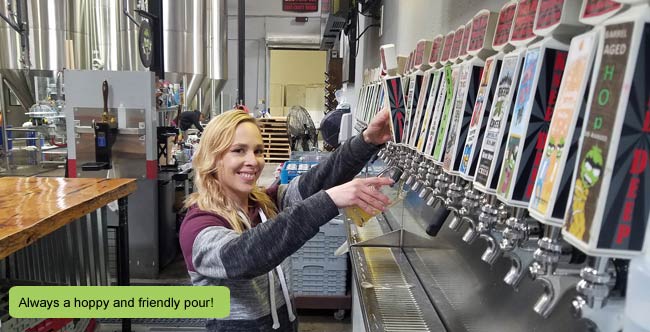 Updated for 2019! Incredible Craft Beers Abound in Auburn
Auburn, CA- Looming large throughout the craft beer universe with a stellar reputation, it was high time we returned to the ever-evolving, always fun Knee Deep Brewing.
Exciting Changes
An active tap list that includes nearly a whopping three dozen beers of hoppy goodness is just the beginning. A 7-day rotating assortment of delectable food trucks, game and trivia nights along with genre-spanning live music on Friday and Saturdays help make Knee Deep Brewing a must-stop visit for beer lovers everywhere.
New Event Center – 9 Year Anniversary
Currently prepping for their 9 year anniversary, Knee Deep is currently constructing a 2,000 square foot onsite event center. Planning for a June 2019 opening, this rental facility will add a unique and entertaining twist for event venues in the region.
Knee Deep's Taproom in Auburn is a brief drive less than 30 minutes from most points in Roseville and Rocklin and is open 7 Days a week from 11:00 am to 9:00 pm. The extended days and hours make it easier to plan a visit anytime of the week.
The staff is friendly and very knowledgeable about craft beers they have on tap. They gladly answered our beer questions and shared a wealth of information with us. The process assists the staff in guiding you toward a sampling of beers geared toward your particular tastes. With approximately three dozen beers on tap to choose from, the guidance is extremely valuable.
Some beers like the popular Breaking Bud, Hop Trio, Lupulin, Stoutello are mainstays always in fresh supply on tap. Visitors to the tasting room get to sample some of the latest brew master creations and specialty brews such as Hop-De-Ranged. Aged in Jack Daniel's Barrels with an ABV topping 14%, this flavorful brew packs one helluva wallop. The Aviator Series offers a chance to try out many rare and experimental brews.
Knee Deep Beer Tasting 2019
Breaking Bud
An award winning IPA with a Beer Advocate score of 92. We found this beer to have the right touch of citrus with the perfect amount of bite you expect from an IPA. Very smooth finish.
Hop Trio
Delicious with a nice chewy bite of hops. Pace yourself as this Triple IPA comes in at 11% ABV.
Imperial Tanilla
Since our last visit, Tanilla has undergone a recipe change from a 6.3% ABV to an Imperial Tanilla with a bigger punch at 10% ABV. Vanilla flavors dominate this treat.
Cherry Imperial Tanilla
We were most excited to taste this special edition with Tahitian vanilla beans and cherry puree. A bit subtle, we would have loved to tasted a little more of the cherry notes.
Slooow Mo IPA
Light and refreshing with just enough bite, this very drinkable 6.5% ABV American IPA might just become a staple in our rotation.
Lupulin River
Packed with hops this Double IPA if full of flavor with a smooth finish.
Stoutello
Every visit to Knee Deep includes one of our all-time favorite Hazelnut Milk Stouts. The world is a big place, but we've yet to come across a better chocolate flavored stout anywhere. This one has dominated every one of our blind taste tests and is always a palate pleaser. 6% ABV
---
Craft beer lovers take their pursuit of quality beer very seriously and thankfully one of the fantastic places to enjoy that experience is at Knee Deep Brewing Company.
Cheers!
Knee Deep Brewing Company
13395 New Airport Rd H
Auburn, CA
Get Featured!