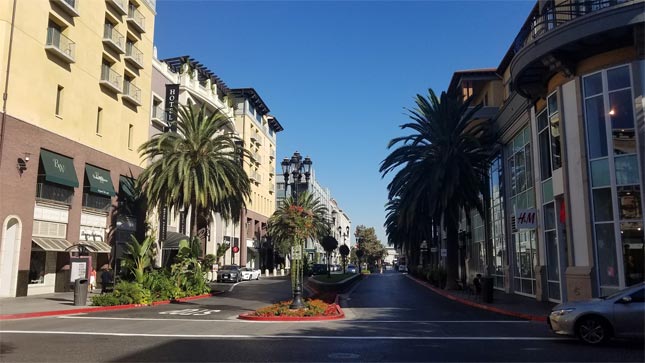 Santana Row reflects the vibrancy of San Jose
San Jose, CA- A delicious, piping hot cup of roasted coffee and a perfectly sweet and flaky apple tart from Cocola Bakery were the perfect complement as soft, cushioned chairs embraced us under the natural shade of mature oaks.
All around us, the plaza and streets were bustling with early morning activity. A large group of yoga enthusiasts stretched out in poses on their mats. The stark contrast to the gentlemen taking on a brisk pace in neatly pressed suits while shuffling off to work was hard to miss. A casually dressed man in jeans and t-shirt sat quietly with a dog by his side, seemingly wondering what the fuss was all about.
Santana Row in San Jose, is an upscale and first class destination which masterfully blends touches of European and California culture and architecture. More than a place to dine, drink and shop, it is a place that invites exploration as well as relaxation. Santana Row reflects the vibrancy of San Jose and is an experience that is above and beyond.
Dining
An experience unto itself, Santana Row really shines here. With ideal weather most of the year, dining al fresco feels obligatory when visiting. Options abound and include everything from Maggiano's Little Italy, Left Bank Brasserie, EMC Seafood and Raw Bar to everything in between. Take your pick between quick and casual to a more upscale sit down experience. There's something delicious for everyone's palate!
Enjoy a meal outdoors while soaking in all the sights and sounds. Live music fills the air as people stroll up and down Santana Row. Evening dining is popular so reservations are recommended.
Explore wine and dine options at http://www.santanarow.com/dine
Shopping
An upscale shopping experience as you wind your way around Santana Row. Check out the latest in high -tech autos at the Tesla showroom, browse top sellers at Amazon Bookstore, look fabulous with some MIMI Tran or browse the myriad of other quality stores. After shopping, pamper yourself with a trip to the spa and salon.
Shop til' you drop, check out what's available at http://www.santanarow.com/shop
Entertainment
Santana Row is lively at all hours. The El Jardin Tequila Bar & Restaurant comes alive when the sun goes down as eager patrons line up to hear live music and sample a few libations.
Surrounded on 3 sides with eateries, the grassy plaza includes a stage and is a popular stop for all ages. Enjoy live music while dining or cooling off with one of the creative ice cream creations from Smitten! A Century's CineArts 6 Theater is the place to catch the latest from Hollywood.
Check out the current list of Santana Row Events
http://www.santanarow.com/events
Winchester Mystery House
An iconic Bay Area entertainment stop, the Winchester Mystery House, a journey into Sarah Winchester's ceaseless efforts to appease the spirits from those killed by Winchester guns. Fueled by tireless riches, a visit offerings a hauntingly fun experience. TIP: Take a journey through one of the spirited flashlight tours!
https://www.winchestermysteryhouse.com/
Lodging
Hotel Valencia
Suite hospitality awaits at Santana Row's only hotel. Hotel Valencia, an upscale, boutique hotel with a nod to Old World Spain that includes lots of extra touches that will be sure to make your San Jose visit a memorable one. We appreciated the well-appointed and luxuriously comfortable rooms.
Complimentary continental breakfast included a various assortment from French Toast, eggs, sausage, potatoes fresh fruit to pastries and more.
When you need to recharge after exploring, Hotel Valencia, situated directly on Santana Row offers the perfect accommodations. Unwind at the heated 5th floor outdoor pool, or duck into the modern Vbar lounge for a drink and mingle.
Hotel Valencia is also a popular spot for hosting business meetings, weddings and private gatherings. During our stay, we encountered travelers from around the globe. They always have great stories!
We found this San Jose location a great hub for our explorations around the South Bay Area. Hotel Valencia provides an elegant, yet relaxing and comfortable environment.
Learn more about Hotel Valencia
https://www.hotelvalencia-santanarow.com
Exploring San Jose and South Bay Area
If you love to explore, San Jose and the surrounding area is brimming with endless fun. Having spent part of the 1990's living here, we're always thrilled to return for another adventure.
This trip would take us through the hair-raising twists and turns of the Santa Cruz Mountains for epic views and first rate wine tasting. We must admit, wine tasting in the Santa Cruz Mountains never really crossed our minds before. A couple afternoons later, we feel very fortunate to have been enlightened. California is always full of surprises.
Testarossa Winery
They say every wine has a story. Well, how about the 4th longest continuously operating winery in California that was built and run by Jesuits for decades starting back in 1888. Testarossa Winery is a historic Novitiate in Los Gatos. The wines taste great, vintage settings are fabulous, and the bucolic grounds are beautiful.
TIP: Outdoor Wine Bar 107 features live music, small plates and ambiance!
Learn more at http://www.testarossa.com/
Ridge Vineyards
Rising high above Stevens Creek Reservoir along a steep and seemingly obscure road rests Ridge Vineyards. You're greeted with panoramic and awe-inspiring views that overlook the entire South Bay metropolis. Being on top of the world has its advantages, at Ridge Vineyards, stellar wines one is one of those advantages. Ridge Monte Bello Cabernet is a taste of heaven and surely one of the reasons people flock to become members here.
Learn more at https://www.ridgewine.com
The Table Restaurant
Describing itself as "an urban, neighborhood eatery focused on seasonal ingredients…", we visited The Table on Willow Street (4 miles from SR) for lunch. We immediately noticed the popularity of this place. With fresh and unique combinations, we noshed our way through delicious smoked salmon and tri-tip sandwiches while washing it all down with a tasty non-alcoholic hand-crafted Orange & Vanilla soda. A worthy stop, yum!
Learn more at https://www.thetablesj.com/
San Jose and Santana Row
Ever since we landed here years ago, San Jose has always held a special place in our hearts. Each time we return, an excitement reignites our love of the Bay Area. San Jose symbolizes the best aspects of diversity and continuous change.
In our view, an ever-present energy and excitement is always bubbling to the surface and makes the region one of our favorite places to visit anywhere in the United States. Santana Row, as much as possible for a single destination, deftly reflects the best of San Jose. An award winning project that was once dubbed "the most ambitious of its kind in the United States", Santana Row is above and beyond.
San Jose Vacation and Travel Ideas
---
San Jose Quick Facts
A sprawling city of over 1 million in an area approximately four times the size of San Francisco, San Jose is often ranked among the safest large cities in America.
Santana Row is about a 2 hour drive from the Sacramento area. Conveniently located near the 280 /880 interchange, Santana Row offers good access to downtown, SAP Center and surrounding Bay Area destinations. Traffic was a non-issue during our trip.
---
Travel Coverage
Now scheduling future travel & destination coverage.
We go where we ♥, we love where we go!
Live light, travel light, spread the light.
Get in touch here
Roseville Today is locally owned & community supported.
(20+ years strong)
Welcome to the brighter side!