Lake Tahoe Cool Down in Placer County
Kings Beach, CA- South Placer County's summer heat is notoriously scorching on many days. When the mercury pushes into the triple digits, residents head for relief either to the coast or mountains.
If your budget or time is tight this summer, staying cool in Placer County is as simple as a quick drive up the hill to North Lake Tahoe. Pack up the buggy for the less than 2-hour drive to Kings Beach at Lake Tahoe. Naturally, weekdays are best to avoid crowds if you can swing it.
Parking is $10 per vehicle and the lot can fill very quickly on hot days. During our last visit, we discovered free and semi-secret parking lot location on county property just a couple blocks in from the beach.
Kings Beach State Recreation Area in Placer County provides a spacious beach, sweeping mountain vistas on the cool waters of super-scenic Lake Tahoe. Pack the cooler, grab your beach chair and definitely be sure to bring plenty of sun block. Our highly tanned bodies learned that lesson the hard way.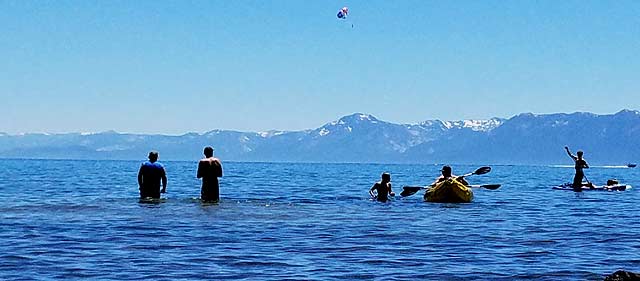 Popular with families
One of the great features of Kings Beach is the shallow shelf which extends surprisingly far out from the shoreline. It's warmer than most of the lake and ideal for those with small children. We plopped our beach chairs at the water's edge and settled in for a day of fun.
Enjoying a day at Kings Beach doesn't have to break the bank and can be as affordable as the price of gas and a well-stocked cooler.
If you don't mind spending a few bucks, there are plenty of spots within easy walking distance where you can grab a casual bite to eat or cold drink.
Kayak and paddleboard rentals are also available without ever leaving the beach. Expect to pay a premium for the convenience with prices double compared to other locations we've visited around the lake.
Staying cool in Placer County is not only fun, it can be easier, closer and more affordable than you think.
For more details on Kings Beach State Recreation Area, check out http://www.parks.ca.gov/?page_id=511