Rocking Night in Reno
Reno, NV- A couple thousand cheerful, colorful hippies and music fans descended upon Grand Sierra Resort in Reno to catch the opening tour night of Bob Weir & Wolf Bros Fall 2018 tour. Grand Theatre Concert Schedule.
The fans energy and excitement had been pent up since Dead & Company's summer tour ended in August. It was a festive evening in Reno that broke loose in true Deadhead style.
Kicking off the tour coincided with Bob Weir's 71st birthday. The energized crowd sang happy birthday as Bob's wife Natascha brought out cake to center stage.
The depth of talent and experience in this trio was on display throughout the night as the band easily worked through some minor hiccups with improvisational escapes and extended forays on classic songs.
Highlights
The setlist touched on many different points from a career spanning 50 years. The highlights were many. Our personal favorite was a splendid version of Don't Let Go, which would have made Jerry proud. Jay Lane and Don Was held down the perfect beat while Bob overlayed intricate combinations of rhythm and lead parts.
Other highlights included China Cat Sunflower which is always an audience-pleaser. A fantastic version of Corrina in the second set, a Grateful Dead song that was recently reinvigorated with Dead and Company. Bob's solo work past and present featured the popular Cassidy and the reflective Only a River. As the band busted into I Know You Rider, the crowd went into a celebrated and boisterous dancing frenzy.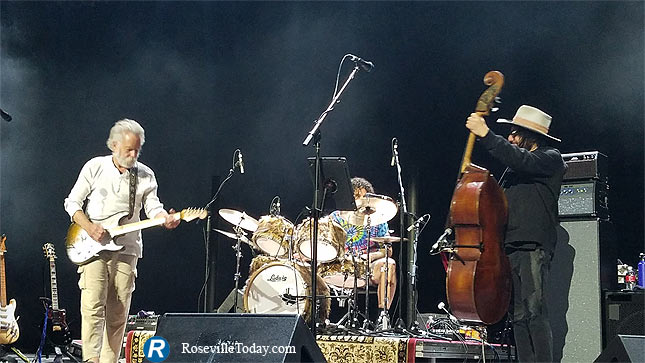 The performance and crowd energy surpassed our expectations. Grab your tickets while you can as this month-long tour zips around the U.S.
Bob Weir & Wolf Bros. (Reno Setlist)
1. Jack Straw
2. Cassidy
3. Me and My Uncle
(John Phillips cover)
4. Only a River
5. She Belongs to Me
(Bob Dylan cover)
6. Ashes and Glass
(Ratdog song) (>)
7. Don't Let Go
(Roy Hamilton cover) (> 'Ashes and Glass' reprise)
8. Peggy-O
9. Me and Bobby McGee
(Kris Kristofferson cover)
10. Bird Song
(Jerry Garcia cover)
11. Corrina
(Grateful Dead song)
12. The Music Never Stopped
13. A Hard Rain's A-Gonna Fall
(Bob Dylan cover)
14. China Cat Sunflower
15. I Know You Rider
16. Touch of Grey
The Venue
Our only complaint is that we didn't know about this venue before! We came away seriously impressed from our first concert experience at Grand Sierra Resort. The venue seats about 2,700 and is billed as "world's largest indoor stage." The audio-visuals were flawless with very comfortable seating. The proximity to the concessions and restrooms was very convenient and lines were short. Book a room prior to the show for a complete mini- vacation experience.
Grand Sierra Resort offers a wealth of entertainment and relaxation options. A nice drive over the majestic Sierra Nevada, we've found ourselves surprised as Reno keeps moving up on our list of concert and getaway destinations.
Roseville Today is locally owned & community supported.
(20+ years strong)
Welcome to the brighter side!