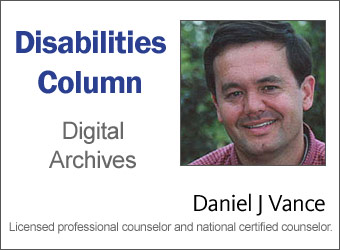 Last week, I introduced you to Tish and Joe Griffin, mother and son, of Destin, Florida. (They first read this column in the Walton (FL) Sun.) If you remember, Joe in 1998 at age 2 accidentally tumbled off a bed while watching TV and became paralyzed from the shoulders down, with the exception of some leg and torso movement. Tish over the next 15 or so years was his around-the-clock caregiver. Today, 21-year-old Joe lives on campus and attends the University of West Florida, all while having a tracheotomy, ventilator, and power wheelchair.
Tish said over the telephone, "When caring for Joe, I felt like I was always running a marathon. I tried staying on an even keel, but my senses became magnified. I remember after his injury, when they put in his tracheotomy, you could see his facial expressions, but you couldn't hear him cry. There wasn't any sound. So I had to become very observant of his body, his coloring, and of what was going on with him. I became part of Joe's body."
Those skills she learned over many years of caregiving eventually would help others. Tish now is resident program coordinator for an assisted living facility for people with Alzheimer's disease and dementia. As the "director of fun" for 30 people, she keeps people engaged in life and pointed towards a purpose, which, in part, helps slow down the dementia process.
Her work with Joe has helped her become more sensitive to the body language of residents, the needs of their family members, and the value of their lives.
As for the latter, she said, "For example, when Joe and I would be out in public, some people might speak to him slowly as if he were mentally impaired. Then they would have a conversation and realize that he was (bright). Joe has achieved many things in life, and the residents I've been honored to be with also have achieved many things. We are all people and we all have wonderful life stories."
She said Joe was an optimist because she had raised him as one, and that same trait in her also has brought optimism to her dementia residents. She said showing joy often can bring "healing." Finally, she added, "I've always been a very patient person, but after being Joe's caregiver, I've (mastered) the art of being very skilled at being very patient, which helps me at my job."