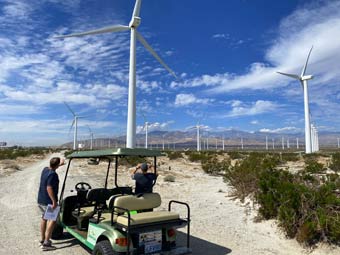 Celebrating 40 years of Wind Farms in Southern California
Palm Springs, Calif.- The Palm Springs Windmill Tours celebrates the first Southern California wind farm established in 1982. In honor of this anniversary, the Tour Center has developed new exhibits on wind energy paying homage to the first wind farm in the San Gorgonio Pass, which paved the way to dozens of wind farms.
"We are the only windmill tour in the United States that offers in-depth tours on a private wind farm." states Annette Said, Marketing Manager. "Since pivoting from our Bus Tours to our Self-Driving Tours with a curated-APP, it has proven that there is a thirst for knowledge about renewable energy and has allowed us to expand to more offerings."
San Gorgonio Pass
These iconic wind turbines mark your arrival to the Coachella Valley where thousands of people pass them as they enter and leave the Valley. "Because of the increased interest in eco-tours, we have a diverse demographic from families to retirees that are asking very smart questions." states Annette Said.
The Palm Springs Windmill Tours not only tell a story of 40 years of wind farms in Southern California, we provide information on wind energy, how a wind turbine works, the history of wind power, and explain why the San Gorgonio Pass is one of the most consistently windy places in the United States. After the tour, you will have a better understanding about renewable energy as a whole.
About Our Tours:
VIP Chartered Tour:
Our VIP Chartered Tours will take your group on a "behind the scene" journey on a private wind farm in our electric vehicle with a personal Wind Tour Guide.
The tour begins with a video orientation that introduces the private wind farm and explains how and why wind energy works. Your tour guide will then provide an overview of the tour and answer any questions about wind energy. Guests then board a
five-passenger covered electric cart for an unforgettable open-air experience on our 100-acre private wind farm.
The VIP Chartered Tours are $100 per person, with a 2 passenger minimum and can accommodate a maximum of 5 people. Reservations must be made in advance with an inquiry form on windmilltours.com.
Self-Driving Tour:
Upon entering the private wind farm, customers check in at the Tour Center and can view timeline exhibits and video on the history of the wind farm first established in 1982 to information about wind energy and the evolution of wind turbines.
To continue with the Self-Driving Tour, you need your own vehicle and it is curated by audio with 10 clearly visible marked stops on our private wind farm.
The audio tour is sent along with an email confirmation after booking with a downloadable APP and bonus material.
Customers are encouraged to stop and exit the car to view 10 clearly marked exhibits with 11 and 12 as optional stops ending up above a vista for great photo ops.
A tour guide is on property at all times and is available for assistance.
Our tours are available to book in advance online. We also accommodate drop-ins. The tour pricing starts at $49.00 for up to two adults. Each additional adult is $10, Kids Under 12 are free. For more information visit windmilltours.com. The tours can also be purchased online with gift cards.
The tours are available from 9a-2p as the last available booking.
About Palm Springs Windmill Tours LLC: The wind farm was established in 1982 by Wintec Energy in Palm Springs. Today, the collective wind farms in the San Gorgonio pass provide power for hundreds of thousands of homes per day. The Palm Springs Windmill Tours was originally established in 1998, then closed after the 9/11 event and re-opened in 2014.
For more information on the windmill tours, go to windmilltours.com.
Roseville Today is locally owned & community supported.
(20+ years strong)
Welcome to the brighter side!