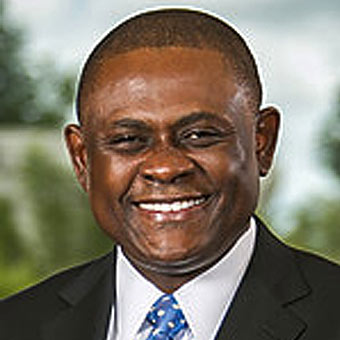 Looking back at the discovery of CTE
Sacramento, Calif. – Bennet Omalu, a UC Davis clinical professor of pathology who discovered the devastating neurological disease known as chronic traumatic encephalopathy (CTE) in the brain of the Pittsburgh Steelers legend Mike Webster, appeared in a PBS Frontline documentary titled "League of Denial: The NFL's Concussion Crisis."
The program originally aired Oct. 8, 2013 on Sacramento PBS station KVIE-Channel 6.
According to Frontline, the two-hour report "investigates how, for years, the league worked to refute scientific evidence that the violent collisions at the heart of the game are linked to an alarming incidence of early-onset dementia, catastrophic brain damage and other devastating consequences." The report was produced by Frontline and award-winning journalists Mark Fainaru-Wada and Steve Fainaru of ESPN.
Searching for evidence
Omalu, who is also currently professor at UC Davis, began investigating brain tissue changes in athletes when he was working as a young pathologist in the Allegheny County coroner's office in 2002. At the time, he was assigned to conduct a routine autopsy of Webster, a Pro Football Hall of Famer who died at age 50 from a heart attack and had been suffering from dementia, depression and chronic pain and was living in his pickup truck.
Puzzled by the lack of a physical explanation for Webster's mental decline using the pathologist's standard tools of visual inspection and CT and MRI scans of the brain, Omalu obtained permission from the family to conduct a microscopic analysis. After methodically studying slides of brain-tissue sections for months, he eventually uncovered the protein deposits scattered throughout key regions of the brain that would characterize CTE. These deposits block communication in brain regions that oversee mood, emotions and executive functioning.
Since Omalu published his landmark findings from Webster's autopsy in the Journal of Neurosurgery, he has found similar results in the autopsies of many other professional and amateur football players and wrestlers. His work has set off a bitter feud between the NFL and their athletes and a national debate on preventing brain injuries in athletes playing high-impact sports. It also has inspired other researchers to develop a brain scan that can identify signs of the crippling disease in living NFL players.
A humbling and overwhelming experience
Reflecting on his discovery of CTE, Omalu is grateful that the finding is helping others.
"Like most advances in the medical sciences, my encounter with CTE was serendipitous," Omalu said. "I was only driven by my inkling as a forensic pathologist to search for evidentiary foundations for everything, since coincidence should never be an answer in the investigation of death.
"I have been extremely humbled but overwhelmed by the attention that I have received and the advances my innocent work has inspired," he continued. "I was only an inexperienced and young medical examiner who had just completed fellowship training in neuropathology, and I had this laughable, nave and idealistic intellectual curiosity that has luckily turned out to significantly impact the lives of many."
In an effort to alert players, parents, coaches, trainers and school administrators to the dangers of repeated concussions, Omalu published the book Play Hard, Die Young: Football Dementia, Depression, and Death (Neo-Forenxis Books) in 2008.
"The inherent risk and dangers of permanent brain damage in contact sports are real especially in children," he said. "We must educate ourselves, especially parents, of this risk and the long term effects in later life."
A highly educated and experienced medical professional
Born in Nigeria, Omalu received his medical degree from the University of Nigeria in 1991, a master's degree in public health from University of Pittsburgh in 2004 and a master's degree in business administration from Carnegie Mellon University in 2008. He is board-certified in five medical specialties and subspecialties, including anatomic pathology, clinical pathology, forensic pathology, neuropathology and medical management. He also is a certified physician executive.
Omalu has testified twice before the U.S. Congress and has provided hundreds of testimonies as an expert witness in courts across the nation. He is a member of many professional organizations, including the College of American Pathologists, American Society of Clinical Pathology, American College of Physician Executives, American College of Epidemiologists, American Association of Neuropathologists, American Academy of Forensic Sciences, National Association of Medical Examiners, International Academy of Pathology and American Medical Association.
Roseville Today is locally owned & community supported.
(20+ years strong)
Welcome to the brighter side!