Initial recharge can provide enough water to more than 300 homes for a year
Roseville, Calif.- As California experiences significant rainfall to start the New Year, Roseville will begin operations today to recharge the groundwater basin using specifically designed groundwater wells. The heavy atmospheric rivers bringing much-needed rain over the last several days means Folsom Reservoir has quickly gained a substantial amount of water, and releases are needed for flood control.
From January 6 through 14, Roseville will capture an initial water surplus from Folsom Reservoir – nearly 60 million gallons – through our contract with the US Bureau of Reclamation Central Valley Project to store excess water within the aquifers. We intend to use this water beneficially when we experience dry conditions.
Investment in groundwater management
"Because of our investments in groundwater management more than two decades ago, we are reaping the benefits to start this New Year by accessing water that would be lost otherwise and banking it locally for later," said Sean Bigley, assistant director for Roseville's Environmental Utilities. "Over the past two years, we banked more than 325 million gallons of water and used it to manage drought conditions."
Just a year ago, Roseville banked enough water to fill 160 Olympic-sized pools. Later in 2022, that water was used as drinking water supplies to reduce reliance on Folsom Reservoir.
Benefits
Using Folsom Reservoir water to replenish the groundwater basin provides multiple benefits, including:
Capturing water that would have been unnecessarily spilled into the ocean
Banking water in "underground reservoirs"- like a savings account- to use in a coordinated fashion depending on water conditions and alleviating surface water supplies when surface water is scarce
Actively replenishing to ensure a healthy groundwater basin as required by state law and as a good steward of our water resources
Roseville anticipates the availability of more surface water for replenishment over the coming weeks, but it depends on the need to create additional winter flood capacity at Folsom Reservoir.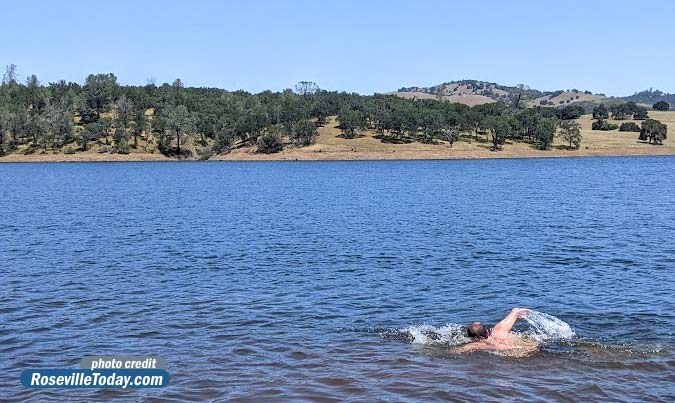 Regional strategy
Roseville's actions are part of a regional strategy to adapt the Sacramento area's water system to climate change by storing-or "banking"-excess surface water underground during wet times for later use during dry times. The groundwater aquifer is a reservoir under our feet that can hold twice the volume of water as Folsom Reservoir.
"Now is the time to be banking this water as this storm series rolls through," said Jim Peifer, Executive Director of the Regional Water Authority, which represents nearly two dozen water providers serving 2 million people in the Sacramento region and is leading efforts to develop the Water Bank. "Roseville is doing its part to build a reliable water system for customers and the Sacramento region."
For more information about Roseville's groundwater program, visit Roseville.ca.us/groundwater or visit Roseville.ca.us/water future to learn more about Roseville's water resource planning.
Information about the Sacramento Regional Water Bank and how to get involved is available online.
related
Roseville Today is locally owned & community supported.
(20+ years strong)
Welcome to the brighter side!