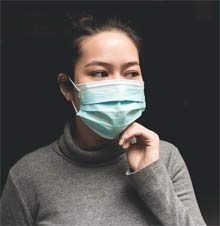 Placer positivity rate almost double California average
Roseville, CA- A key measurement health and public officials cite to measure the prevalence of community spread of COVID-19 is the positivity rate. During the March through May period, Placer County was tracking a positivity rate of 1.85% which indicated low community spread. A total of 217 positive cases were recorded throughout all of Placer County during that time period.
Naturally as additional testing occurs more positive cases will be identified. However, the rate of positivity has risen near 700% over the past two months, indicating an increasing and higher rate of community spread. Testing in Placer, ranks in the bottom third of the state and has been drifting even lower.
As of August 6, 2020, Placer County is reporting a 7-day positivity rate of 14.4% ranking among the 10 highest positivity rates in California. Statewide, the positivity rate statewide is 7.6%. Total cases to date in Placer County are 2,039 with 20 deaths. Placer County hospitalizations include 63 currently hospitalized with Covid.
Likely Underestimates
Aug 5, 2020 – Placer County dashboard "Please note that CalREDIE, the statewide electronic disease reporting system, is experiencing serious unresolved processing delays. As such, new cases presented here are likely an underestimate of true incident cases being reported. This impacts many of our statistics, including case rates and percent increase estimates."
Where Placer County currently ranks
California Covid-19 Testing Rate (per 100,000 residents)
| | |
| --- | --- |
| Lassen | 410.1 |
| San Francisco | 348.8 |
| Los Angeles | 339.9 |
| Marin | 324.6 |
| Kings | 321.6 |
| Imperial | 282.4 |
| Kern | 267.9 |
| Mono | 266.1 |
| Napa | 265.5 |
| Santa Clara | 257.4 |
| Ventura | 254.3 |
| Madera | 250.5 |
| Mendocino | 237.3 |
| Santa Barbara | 233.5 |
| San Joaquin | 224.3 |
| Stanislaus | 216.5 |
| Solano | 212.9 |
| Fresno | 212.3 |
| Tulare | 206 |
| San Luis Obispo | 204.7 |
| San Mateo | 202 |
| San Bernardino | 197.1 |
| San Benito | 195.2 |
| Tuolumne | 194.6 |
| Siskiyou | 192.7 |
| Alameda | 190 |
| Contra Costa | 180.8 |
| Shasta | 176.5 |
| Monterey | 175.2 |
| Amador | 171.7 |
| Sonoma* | 167.1 |
| Orange | 158.5 |
| Mariposa | 158.2 |
| Yolo | 155.4 |
| Sacramento | 154.5 |
| Riverside | 149.6 |
| Merced | 149.5 |
| Santa Cruz | 146.9 |
| Calaveras | 141 |
| San Diego | 137 |
| Lake | 133 |
| ↓ Placer | 132.9 |
| Nevada | 129.1 |
| Plumas | 124.8 |
| El Dorado | 120 |
| Sierra | 119.2 |
| Colusa | 116.3 |
| Yuba | 109.2 |
| Sutter | 107.9 |
| Humboldt | 102.2 |
| Tehama | 101.5 |
| Del Norte | 90.7 |
| Butte | 88.2 |
| Glenn | 77.4 |
| Trinity | 71.7 |
| Inyo | 50.3 |
| Alpine | 38.4 |
| Modoc | 22.6 |
Highest Positivity Rates in California
| | |
| --- | --- |
| Tulare | 19.6 |
| Merced | 19.3 |
| Kern | 19.2 |
| Stanislaus | 18.1 |
| San Joaquin | 17.5 |
| San Bernardino | 17.1 |
| Madera | 16.4 |
| Riverside | 14.7 |
| Monterey | 14.6 |
| Placer | 14.4 |
| Kings | 13.5 |
| San Benito | 13.1 |
| Colusa | 13 |
| Fresno | 13 |
| Sutter | 12.3 |
| Yuba | 12.1 |
| Glenn | 11.9 |
| Orange | 11.7 |
| Imperial | 11.5 |
| Mono | 11.2 |
| Santa Barbara | 10.3 |
| Sacramento | 9.6 |
| Los Angeles | 8.2 |
| Ventura | 8.1 |
Source: California Department of Public Health and Placer County Covid-19 dashboard
John Hopkins University on Positivity Rates
"The rate of positivity is an important indicator because it can provide insights into whether a community is conducting enough testing to find cases. If a community's positivity is high, it suggests that that community may largely be testing the sickest patients and possibly missing milder or asymptomatic cases."
Roseville Today is locally owned & community supported.
We have NO affiliation with print, politics or corporate media.
(Now in our 20th Year)