Adventure in the Sierra Nevada Foothills
Murphys,CA- As luck would have it, the colorful tales and whispered rumors we heard over the years all turned out to be true. Saturday night in Murphys was the trifecta of fun. An opportunity to enjoy this remarkably beautiful and action-packed small town in the Sierra Nevada, before heading over to see country legends Willlie Nelson and Alison Krauss at the Ironstone Amphitheater, was more than we imagined. While our musical tastes have always steered away from country music, the opportunity to catch such legends was one we couldn't resist.
Murphys
Cooler than hell. Even at 105 degrees, Murphys moves toward the top of our lists of cool places to visit in the foothills. A terrific location to walk the shops, taste wine, grab a bite or just people watch. This unincorporated village in Calaveras County is about a 2 hour ride from Roseville. Although we took Google Maps most direct route, if you're not in a rush, consider taking highway 49 to add a little extra adventure to your trip.
Once in town, grab a parking spot and set out to explore this historic village. Yet another of California's great wine growing regions, stop in one of the many wine tasting rooms to sample the fun. We're no wine pros, but the Barbera and Ports in this region always seem to be among our favorites. Unique, small shops dot Main Street and offer a chance to escape the summer heat while picking up a few travel gifts along the way.
Good Eats & Drinks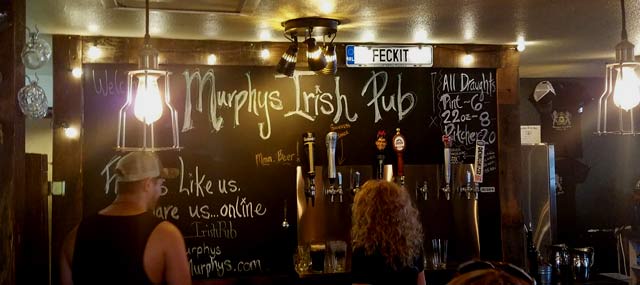 After exploring town, it was time to duck into one of the local watering holes. After some deliberation and temptation, it seemed only natural considering the town's Irish heritage that we head over to Murphys Irish Pub to grab a couple pints of Guinness and a bite. The lively and jovial atmosphere along with attentive staff made us feel right at home. The entire town is quite lively and each place we passed was enticing and unique. Casual seems to be the order of the day around here. No chainstores is another positive in our book.
For those with a sweet tooth, Joma's Ice Cream and Nelson's Candy Kitchen are worth a stop. It's not easy to resist the lure of a couple ice cream cones on a hot day, so we indulged. A unique assortment of scrumptious flavors, the Mocha Almond Fudge and Crunch Time won the day. Yum! With bellies full and showtime approaching, it was time to make our way over to Ironstone.
Ironstone Amphitheatre
We've read reviews, heard the stories and now it was time to experience Ironstone Amphitheatre for ourselves. Prior to entering town, we decided to scout the venue location. Google Maps directed us from Highway 4 to 6 Mile Road. 6 Mile Road is an almost single lane, dusty, gravel road through the wilderness. It's a fun experience, dark and slow going after a show. Parking was quick and easy. We were glad to see tailgating fun already underway with grills cooking and people enjoying themselves around the lot. A large lawn area offers a little space to chill and grab some shade pre show.
Concert Venue
Although we had seats near the stage, we spent time checking views and sounds from all locations. We didn't detect any trouble spots as the views were very good at all locations. The volume levels and sound dispersion were excellent. Sound dispersion is much better than most amphitheatres. We didn't find any major drop offs from various seating locations. The lawn seating is also better than many venues. Although crowded, people seemed relaxed with a comfortable amount of space between others. The reserved seating offers a closer vantage point with the trade off of more compact seating. We were comfortable throughout the show.
Food and Drinks
Prices on food and drinks are much more reasonable than larger venues. $7 beers and $3 tacos are about half price when compared to other venues. Carafes of wine seemed to be a popular choice and while the lines were active at the concessions, they appeared to move quickly.
Facilities
Restroom facilities were the traditional concert porta-potties. Lines were short and staff cleaned them constantly during the night. Making the least favorite aspect of attending concerts a bit less uncomfortable.
Staff
The staff and vendors we encountered from the parking lot to the seating were very friendly and helpful.
Willie Nelson & Family and Alison Krauss
In the week leading up to the concert, we battled our country music ignorance with streaming playlists of Willie Nelson. We enjoyed many songs we'd never heard and gained much appreciation for this cultural and musical icon. It fueled our excitement and from the moment Willie took the stage, we knew it was going to be a special night. At 85 years young, Willie Nelson exudes a ineffable charm and ability to entertain like few have done at this stage of life. He seemed as genuinely appreciative and excited to be playing as his fans were to have him there. Opening with Whiskey River and the unfurling of the Texas Flag, an enthralled crowd took to its feet in celebration. It was a remarkable experience from start to finish. Thanks Willie!
Alison Krauss
27-time Grammy winner and bluegrass legend, Alison Krauss opened the show. Outside of her work with Robert Plant, this was our first experience listening to Alison Krauss as a solo artist. In addition to her beautifully soft singing voice, the layered, shifting, and multi-part harmonies employed throughout the evening were nothing short of spectacular and a highlight. She closed her show with a moving rendition of the 1876 Christian hymn, It Is Well With My Soul.
Recap
Off the beaten path, an afternoon exploring the colorful town of Murphys before heading over to Ironstone to catch music legends Willie Nelson and Alison Krauss took us out of our musical comfort zone. Stepping into another world and bringing back home a little more appreciation in this grand adventure. Our trip to Ironstone was a legendary experience.
Explore and Go!
Concert and Festival Coverage
Now scheduling travel & destination coverage for 2023.
We go where we ♥, we love where we go!
Live light, travel light, spread the light.
Get in touch here
Roseville Today is locally owned & community supported.
We have NO AFFILIATION with print, politics or BIG media.
(20+ years strong)
Welcome to the brighter side.