Concert Experience Ranks Among the Very Best
Mountain Winery Concert Schedule 2020
Saratoga, CA- Perched in the hills overlooking Silicon Valley lies one of California's most esteemed and spectacularly beautiful concert venues. The Mountain Winery should be on the must-visit list for every serious concert fan.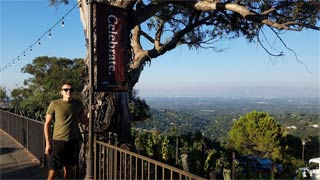 Each year, The Mountain Winery, a splendid excursion in its own right, hosts top music acts at one of our favorite concert destinations.
Consider spending a day or two in the area to enjoy outdoor activities, downtown dining and shopping prior to catching a show.
"In addition to the amazing scenery and activities, the weather typically hovers near perfection."
Mountain Winery Concert & Entertainment Schedule
Notice from Mountain Winery on 2020 Season Cancellation
"To Our Mountain Winery Family,
It is with deep sadness and disappointment today that we must notify you, for the first time in memory, the Mountain Winery 2020 Summer Season has officially been cancelled. While we had high hopes of preserving and hosting some form of a concert season this year, your health and safety remain our primary concerns, and we've found it best to focus our attention towards 2021.
Our wine tasting program continues to be closed as well in an abundance of caution for the safety of our staff and guests. We hope to open soon and you will be the first to know!
We look forward to seeing you all enjoying live music, great food, and of course, great wine again as soon as possible. In the meantime, please remain safe, stay healthy, and be good to one another."
For tickets, dinner packages and special offers visithttp://www.mountainwinery.com/concerts