Roseville Today Events
Premium Events in Placer County and beyond since since 2003.
Roseville Comic-Con
October 27
@
10:00 am
–
5:00 pm
Roseville Comic-Con Convention Brings Comic Book Legends, Celebrities, Vendors and More to Placer County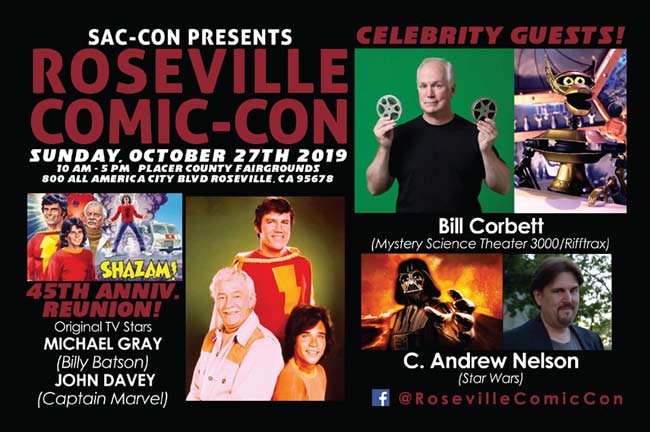 ROSEVILLE, CA- On Sunday, Oct. 27 the exciting tradition that Sac-Con started years ago with their Fall Sac Comic-Con show continues but with a twist!
This year they have a new venue and new name: Roseville Comic-Con @the Grounds. This quality, family-friendly show will delight long-time fans and newbies alike with an amazing line-up that includes some of the top talent in the comic book industry.
"We are bringing over 60 vendors and artists to @the Grounds for Roseville Comic-Con," stated Program Director Scott Armstrong. "A few of the incredible guests are Chris Marrinan who worked on Nova and New Warriors, Thomas Yeates who worked on Tarzan, Swamp Thing and Prince Valiant and Dan Brereton who created the Nocturnals and is one of the only artists who still works entirely in paint for comic books!"
Armstrong also shared that the following comic celebrities will be in attendance: Bill Corbett from Mystery Science Theater 3000, John Davey and Michael Gray from the 1970's series Shazam, C. Andrew Nelson who portrayed Darth Vader in the Star Wars Special Edition and did VFX for Lucasfilm and legendary comic creator Steve Englehart who introduced the character Star-Lord into the Marvel universe!
"We are excited to bring this show to the fans and starting this as a yearly event in Roseville," added Armstrong. "Many of our attendees at our Sacramento events come in from Placer County so we felt it was time we brought the show to them!"
CEO of @the Grounds David Attaway commented, "We are thrilled to have this event move to our venue this year and excited to announce that in 2020 Roseville Comic-Con will find a permanent home at the Placer Valley Event Center giving them 160,000 square feet of flexible space where the sky is the limit!"
Roseville Comic-Con will run from 10 a.m. to 5 p.m. in Jones and Johnson Hall @the Grounds. Parking is $10 per vehicle and admission is $7 in advance or $10 at the door. Don't forget that currently the only entrance open to the main parking lot is off of Junction Blvd and Event Center Drive. Come experience the comic panels, guests, costumes and so much more!
@the Grounds
850 Event Center Drive
Roseville, CA 95678