Adapting to Wild World of 2020
Reno, NV – The welcome signs are up, health and safety protocols are in place as guests return to the fun and adventure known as The ROW Reno. The smiles and energy on the faces of visitors magically transcends face coverings. People are thrilled to be back in Reno safely. Adding a little fun and excitement to life, adventure seekers are adapting to the wild, unpredictable world of 2020.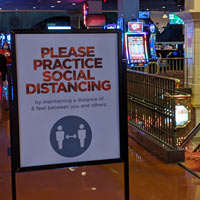 During a weekend stay at the Silver Legacy, we had the opportunity to check out the fun while joining in some classic Reno revelry. Here's what we discovered, along with some fun things to do in Reno.
Health & Safety
A practical concern for travelers in any year or place, THE ROW has implemented a variety of health and safety protocols. All guests are required to wear face coverings and automated sanitizer stations are provided throughout the property. Social distancing measures and cleaning protocols were evident throughout our stay.
Silver Legacy
In the center of it all, the Silver Legacy offers clean and comfortable rooms. A place to refresh and relax from all the excitement happening below, our room offered expansive and elevated views of Reno to the east.
Tip: Catching a morning sunrise over the mountains is well worth an early wake up call.
To explore options and book your stay, visit https://www.silverlegacyreno.com/
Spa
Relative newcomers to Spa Treatments, they've quickly become a highly anticipated activity during our travels. The Silver Legacy Signature Massage is an 80-minute full-bodied journey into peaceful relaxation. This classic full body massage also includes a soothing scalp and hand massage. "This should be part of every health plan", my better half remarked. Floating across the room in a state of pure bliss appears to be a side effect of treatment.
To unwind and get pampered, check out Silver Legacy's variety of soothing spa treatments at https://www.silverlegacyreno.com/spa

La Strada – A 5-Star Dining Experience
Travel always includes some pleasant surprises. La Strada located in the El Dorado serves up a 5-Star Experience of Hospitality and Italian Cuisine.
Our La Strada dining experience rivals the best we've encountered. Par Excellence!
Noted among Food Network's 2019 List of the Best Pastas in the Country and earning Wine Spectator "Award of Excellence" for nine years, La Strada has a well-earned reputation as an esteemed dining destination.
Welcomed by Maître d' and consummate professional Michael Vertucci, we settled in for an evening of engaging conversation, red wine and an assortment of delectable Italian fare prepared by longtime Chef Massimo Riggio.
Extraordinary evening
As one can imagine, a romantic, candlelit Italian style dinner, La Strada quickly turns the typical day into an extraordinary evening.
Unmistakably passionate in all they do, La Strada welcomes guests with warm, friendly hospitality. Attentive to the smallest of details from start to finish, service is matched only by their exquisitely prepared and plated dishes.
Delight your taste buds
Order up a delicious bottle of Italian red and indulge from La Strada's menu of super-tasty appetizers while attempting to choose a favorite. Good luck! Whether you choose Prosciutto wrapped prawns, Stracchino cheese stuffed Focaccia, La Caprese with fresh Buffalo mozzarella or their famed Mushroom Ravioli, your taste buds will be delighted.
Choosing a main course is an equally fun challenge. We opted for Baked "In Cartoccio" Salmon and Veal Shank. Perfectly prepared and melt-in-your-mouth tender, our Maître d' suggested a Ferrari-Carano red pairing. With grapes sourced from Healdsburg along the Russian River in Sonoma County, we knew it would be a fantastic pick!
Dessert was a decadent sampling of cannoli's, Tiramisu and homemade gelato. Favorites were a split decision with Sue choosing the mouth-watering Tiramisu as I opted for their rich coffee and pistachio homemade gelato.
TIP: Plan for a 2+ hour experience of fun and be sure to make room to sample a variety of dishes. While La Strada offers superb signature dishes, everything we sampled was a hit.
"Must experience"
A palate-please experience from start to finish, La Strada is now an essential "must experience" for all our family and friends visiting Reno. The experience highlighted our Reno visit and we're thrilled to return for another incredible evening.
Learn more at https://www.eldoradoreno.com/venue/restaurants/la-strada
The Brew Brothers
The more experiences you have, the more discerning you may become. Having been to more than a fair share of brew pubs over the years, we always look forward to unique and fun experiences with an eye toward comparison. Tempered expectations in hand, The Brew Brothers delivered some brew and grub worthy surprises.
In our estimation, The Brew Brothers occupies a sweet spot somewhere between the big casual chains and small brew pubs. Offering the best of both worlds, we expect more businesses to adopt this format. Excellent bar food and craft brew worthy options in a friendly environment make it an easy choice for solo travelers as well as groups.
The Brew Brothers popularity is evidenced each time we strolled past during our visit to THE ROW. Casual with fast service, we ordered up a beer flight to find our favorites and noshed on a giant Bavarian pretzel, fish tacos, tri-tip sandwich and a root beer float. Excellent food all around and we found a few brews worth ordering up on our next visit. For non-alcoholic drinks, the root beer float with gelato will impress!
Casual, friendly environment with good quality and service, The Brew Brothers is an easy choice for individuals and groups to grab a bite and brew. Learn more at https://www.eldoradoreno.com/venue/bars-lounges/brew-brothers
Cin Cin Bar and Lounge
When the opportunity arises to have Martinis and a chat with Kenny G, you say yes. Prior to our dinner reservation at La Strada, we caught up with Kenny G at the upscale Cin Cin Bar and Lounge to discuss music and business along with a variety of assorted topics over tasty hand-crafted libations.
Kenny G is the mixologist responsible for concocting creative libations and converting us to Martini drinkers. We certainly had no idea there were so many variations of this classic drink. It all starts with Hendrick's Gin, vermouth, a twist of this, a splash of that, add a garnish and voila'! James Bond doesn't know what he's missing.
On your next visit to THE ROW, stop by Cin Cin before dinner and grab a lesson in fun, Martini style! More at https://www.eldoradoreno.com/venue/bars-lounges/cin-cin-bar-and-lounge
Millies
Tasty, affordable diner on THE ROW, Millies is open 24 hours a day. Following our previous night's indulgence, the Steel-cut oatmeal, sliced fruit and a pot of coffee were the perfect way to begin another day of Revelry in Reno. Jumping over the California border, you quickly realize how much more affordable some experiences can be! Full sit down breakfast for two can be had for around $25 bucks. Good deal!
Revelry in Reno
Each time we visit Reno, we come away with a newfound appreciation of "The Biggest Little City in the World." THE ROW RENO, The City within a City is really an extension of that view. A city and place filled with a variety of gems for those willing to unearth them.
Exceptional dining experiences, entertainment, recreation and gaming, Reno delivers the perfect antidote and easy getaway from the everyday.
We'll always find a little time for some revelry in Reno!
About Travel Destination Coverage
Now scheduling future travel & destination coverage.
We go where we ♥, we love where we go!
Live light, travel light, spread the light.
Get in touch here
Roseville Today is locally owned & community supported.
(20+ years strong)
Welcome to the brighter side!