Sacramento among handful of Northern California dates
Sacramento, CA- Two solo acts, traveling the western coast, singing old and new songs both solo and duo. Looking for adventure-telling their stories of love lost and love found. Villalobos' music is deeply rooted in time, place and history. Chapman's voice conveys both the brutal honesty of a changing California and the tender-footed sweetness of its past. Both maintain a love affair with the roots of American music.
Torch Club in Sacramento Sept 14th
Friday, September 14th Happy Hour @ Torch Club
5:30 pm (doors at 2 pm)/ Free
904 15th St, Sacramento, CA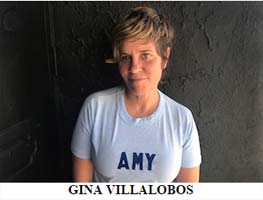 GINA VILLALOBOS is a songwriter already known for her willingness to dwell unflinchingly in reality, something of a lost art. She has the knack for writing lines and melodies that scrape away the layers of denial that get us through the everyday. In an era when most roots-oriented songwriting reaches for relevance by hanging onto tropes that feel outdated and nostalgic, Gina's songs are shocking in their ability to capture the grave emotional tone of our surreal collective current moment.
"Purveyors of the four-minute popular song usually stick to cataloging one emotion. Villalobos' compositions are not quite so simple, coming off the speakers like holographic Cracker Jack surprises that reveal a new depth with the slightest shift in light. Days On Their Side (Face West Records) finds her taking the Lucinda Williams/Sheryl Crow model to a new level. (And it's about time someone did.) –American Songwriter Magazine
AMEE CHAPMAN'S singing, songwriting and guitar playing reflect the images of the average and eccentric: lonesome highway phone booths, sea faring whiskey rebels, city wise angeled outlaws and suicidal tattooed cowboys, all of them pent up together on a stretch of land between the past and the present.
"… Proud daughter of a California that has gone astray, Chapman's working-class background and her respect for the state's oft-forgotten rural denizens mark her as a songwriter with a distinctive voice. Chapman shows a refreshing willingness to push musical boundaries, referencing muscular rock & roll, the expansive sonic textures of Wilco and the faded beauty associated with her pal Jolie Holland's torch songs. Chapman is a brave artist who appears to be poised for bigger things." –Santa Cruz Weekly.
Tour Dates:
Tuesday, September 11th
Silverlake lounge 8pm/$10
Los Angeles, California
Wednesday,September 12th
Soho 6:30 pm/ $8
Santa Barbara, CA
Thursday, September 13th
Ivy Room 7pm/$10
Albany, CA
Friday, September 14th
Happy Hour @ Torch Club 5:30pm (doors at 2pm) / Free
Sacramento, CA
Saturday, September 15th
Dew Drop Inn 9pm/Free
Grass Valley, CA
Sunday, September 16th
Secret Trail Brewing 3pm (doors at 11am)/Free
Chico, CA
Wednesday, September 19th
Hotel Albatross 8pm/$7
Seattle, WA
Thursday, September 20th
White Eagle Saloon 8pm/$10
Portland, OR (Opening for The Stubborn Lovers)
Friday, September 21st
Boon's Treasury 8pm/ free
Salem, OR (Opening for The Stubborn Lovers)
Saturday, September 22nd
Sam Bond's Garage 9pm/ $5
Eugene, OR (Opening for The Stubborn Lovers)
Sunday, September 23rd Sunday Sessions
Standing Stone Brewing 7pm/Free 1802
Ashland, OR
Tuesday, September 25th
Petaluma Taps 6:30/Free
Petaluma, CA
Wednesday, September 26th
The Riptide San Francisco, CA
Thursday, September 27th
7 Sisters Brewing Co. 6:30/Free
San Luis Obispo, CA
Roseville Today is locally owned & community supported.
We have NO AFFILIATION with print, politics or corporate media.
(20+ Years Strong!)