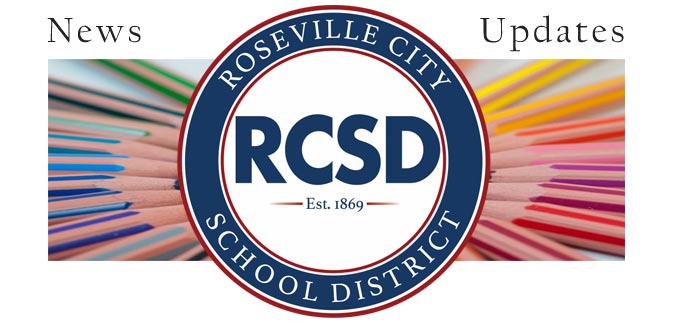 Learning, growth, and endless possibilities
Roseville, Calif.- As we embrace summer, while the noise level at our school sites is quieter, at our district office, we're diligently working all summer to ensure our campuses and classrooms are maintained and prepared for August.
From thorough classroom cleaning to essential software updates, from hiring talented new staff members to undertaking numerous Maintenance and Facilities Department projects – we leave no stone unturned in our commitment to educational excellence!
Summer Reading Challenge
This summer, RCSD is encouraging families to join our Summer Reading Challenge. It's a fun, simple way to keep kids learning while they're diving into an adventure, a fantasy, sci-fi or their favorite Harry Potter book…again. Visit our Roseville Public Libraries for free resources, checking out books and projects available for all ages. Try a family book club, ask questions about the plot and favorite characters, guess what your other family member is reading, trade books – make it fun and combat summer learning loss in the pages of a good book! No sign-ups or registration needed – just pick up a book and dive into a world of adventure.
NEW! Westbrook Elementary
One of the major undertakings this summer involves putting the final touches in the classrooms of our latest addition, Westbrook Elementary. Wolverine families will be welcomed through the gates of Westbrook on the first day of school, August 10, 2023 with a red carpet experience. We want families, staff and students to feel the ROAR and the energy of what their future at Westbrook will be. We can't wait to watch your journey begin!
Karen Calkins retires
The end of a school year is always a tad bittersweet as we bid farewell to esteemed members who have embarked on their well-deserved retirements. We are delighted to celebrate the retirement of Karen Calkins, an esteemed member of our RCSD community. With a career spanning several decades in public education, her unwavering commitment to educational excellence and her compassionate approach to leadership have left an indelible mark on our district.
Karen served in our district as a teacher, instructional coach, vice principal, and lastly, as the principal of Cooley Middle School. Her dedication to fostering a positive and inclusive learning environment has created a lasting legacy within the school community.
Under Karen's guidance, Cooley thrived as a nurturing and academically enriching institution. Her visionary leadership fostered an atmosphere of collaboration, innovation, and student-centered learning. Karen's colleagues admire her professionalism, integrity, and tireless work ethic. She led by example, inspiring her staff to continually strive for excellence and to embrace the joy of teaching. Karen's warm and approachable demeanor made her not only a respected leader but also a trusted mentor and confidante.
As Karen embarks on this new chapter in her life, we express our heartfelt gratitude for her immeasurable contributions to RCSD.
Upcoming School Year
As we bid farewell to our retiring staff members and welcome fresh faces into our RCSD family, the anticipation for the upcoming school year builds. It is with great excitement that we look forward to another year of empowering education, facilitated by our enthusiastic, qualified, and wholehearted staff members.
The first day of school is Thursday, August 10, 2023, and to help you prepare your schedules, take a look at our academic calendars.
See you all in August as we embark on a journey filled with learning, growth, and endless possibilities.
Derk Garcia, RCSD Superintendent
Roseville Today is locally owned & community supported.
(20+ years strong)
Welcome to the brighter side!