Apprenticeships to employees referred by PRIDE Industries
Folsom, Calif. – Joining in the mission to provide more job opportunities to those with a wide range of abilities, SAFE Credit Union is proudly partnering with Roseville- based PRIDE Industries.
The credit union recently began offering apprenticeships to employees referred by PRIDE Industries, creators of employment for people with disabilities nationwide. Through the partnership, candidates train for jobs in customer service including branch tellers.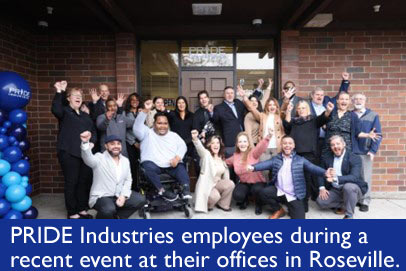 "SAFE Credit Union is working with PRIDE Industries to create a support system so that people can learn and grow and thrive," says PRIDE Industries Chief Growth Officer Leah Burdick. "They are an innovative and welcoming company and know how to seek out valuable employees and solutions to fill high volume roles."
After completing job training, apprentices have the opportunity to be hired for full-time positions with the credit union. Burdick says the internship model allows PRIDE Industries' employees "to try a job with an excellent company in a learning capacity where they can acquire transferrable skills."
This is SAFE's first full partnership with an organization dedicated to providing time and support to ensure the employment of individuals with disabilities.
"We are grateful and excited to further expand our diverse candidate pool for new employees," says SAFE Credit Union's Chief Human Resources Officer Colleen Nerius. "Our Human Resources team is on a mission to continually increase diversity and inclusion among our workforce, and we can think of no better way to move that needle forward than to partner with PRIDE
Industries."
Burdick explains that PRIDE Industries, through its Youth Employment Services program (YES!), provides individuals looking for employment and opportunities to develop career skills.
SAFE Credit Union Talent Acquisition Manager Kelly Valiente says the new partnership spotlights how the credit union's leaders are focused on providing opportunities and on making accommodations for qualified candidates seeking full-time employment.
"SAFE is a place where everybody is heard and seen and valued," she says. "We want all employees, and members, to see and know that when they visit our branches they are in a place of belonging."

Kelly Valiente, SAFE Credit Union
PRIDE Industries, founded in 1966, creates employment for people with disabilities through personalized employment services to help individuals realize their true potential and lead more independent lives. A social enterprise, it provides facilities, operations and maintenance services, contract manufacturing, supply chain management, packaging and fulfillment services, and placement services to private and public organizations nationwide.
🎉 Get Noticed on Roseville Today 🎉
Need to promote local events, business, & destinations? Roseville Today, the community's leading local website for over 20 years in a row can help. Professional, affordable & fast service.
For pricing and more info, contact us here.
Roseville Today is locally owned & community supported.
(20+ years strong)
Welcome to the brighter side!