Passion for his family and community helped shape Rocklin
Rocklin, Calif.- Longtime Rocklin resident Gary Day recently passed away at the age of 82.
A tireless advocate for the betterment of his community, we'll always recall Gary's sharp wit, great sense of humor and in-depth conversations at the numerous coffee shops around town. Gary left a positive impact on his community and touched many lives, he will be missed. We're grateful for his friendship and offer our deepest condolences to his family and friends. Gary Day, a True Champion of Rocklin.
Gary Day
Rocklin, Calif.- Gary was born in Detroit Michigan to Lawrence Day and Pauline (Engelhard) Day. Being the eldest of 10 children, family was very important to him.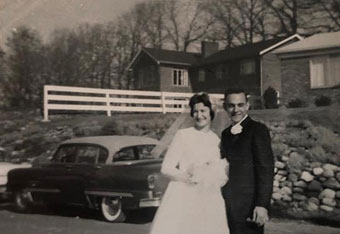 He was married to and is survived by his "wonderful wife" (as he called her) Jean (Slavin) Day for 61 years. It was a special year in 2021 as Gary and Jean welcomed their 8th grandchild and their 1st great-grandchild.
Gary is survived by his 3 children. Catherine (Paul) Anderson, Laura (Danny) Henry and Robert (Julie) Day, 8 grandchildren, Allen, Beth, Ryan, Nicole, Emily, Blake, Audrey and Anders. and one great-granddaughter Violet. He is survived by siblings Lauryne Haynes, Elizabeth Nurenberg, Donna (Terry) Lilley, Karen (Milton) Haines, Rosemary (Jay) Cliff, Joseph (Tina) Day, Marion (Dave) Sioma and Greg (Carol) Day. He was preceded in death by his grandson Ross and brother Lawrence.
Gary graduated from Wayne State University with a degree in mathematics. He had a lifelong love of math, adding, subtracting and multiplying columns of numbers in his head to everyone's amazement. He was also a great chess player, keeping a very high rank on his online competition for years.
Golfing was his passion and he spent many years golfing at Sunset Whitney Country Club in Rocklin. His goal was to qualify for the senior open, and he came very close a few times. Once he stated to a friend who had just purchased the fanciest most expensive clubs, "I do not need a new set of clubs to beat you I can do it with my putter". He proceeded to play an entire round of golf with his putter against this friend and of course he won.
Gary was an avid runner. He ran daily throughout his life and competed regularly in the San Francisco Bay to Breakers.
Gary worked for the State of California for 38 years as a data analyst. After retirement he began volunteering for the Rocklin Historical Society and soon became an author of historical articles for local papers and publications.