Decades of volunteerism and supporting community
Rocklin, Calif.- The Rocklin City Council recently held a special presentation for the 2023 Ruhkala Community Service Award Winners at a City Council meeting and honored them with an awards reception.
This year's honorees have been involved in decades of volunteerism, helping veterans and students in need, promoting education, leading youth sports, and honoring Rocklin's library. Read more about each honoree below and congratulate these deserving citizens who make Rocklin such a wonderful place to live.
2023 Ruhkala Community Service Award Winners
Alan Wing – Individual Award Honoree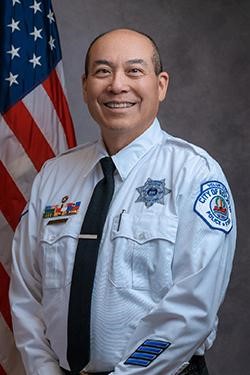 Alan Wing has been an active member of the Rocklin community since 2005. Alan became a Patrol Volunteer after successfully completing the Rocklin Police Citizen Volunteer Academy and has been serving the Rocklin community for nearly two decades.
Despite holding a full-time job, Alan has collected over four-thousand volunteer hours and was awarded the Presidential Lifetime Achievement Award in 2019. He has served at key traffic locations during Run Rocklin races and is a member of the Volunteer Emergency Response Team (VERT).
Stuart Lehman, Alan's patrol partner, speaks to Alan's dedication: "Every Monday night for the last 17 years, Alan has patrolled the 22 square miles of the city averaging 50 miles a night. This has added up to about 35,000 miles. Alan is the extra eyes and ears for the department while checking our schools, businesses, parks, and residential areas. If any suspicious activity is observed, it is called in to dispatch for an officer to respond to handle the incident. If there a vehicle collision or road hazard, Alan responds to set up traffic diversion (cones and electronic flares) and direct traffic around the accident site."
Sierra College Foundation – Service Organization Honoree

The Sierra College Foundation has supported the needs of its students for nearly fifty years.
Sierra College has worked tirelessly to assist students with housing and other basic needs and provide underprivileged students with access to scholarships and financial aid. The work of the Foundation has helped Sierra College become known as a one of the best places for veterans to study and get reacclimated to civilian life. They are also well-known for their foster youth programs, providing students with extra support to complete their college education.
When speaking about the Foundation, Rocklin City Councilmember Bill Halldin stated that "over the last two decades the Foundation has done ground-breaking work to assist students with housing and basic needs – rallying the community to be partners in the effort."
Gloria Beverage – Pioneer Award Honoree
Gloria Beverage is a prime example of what it means to love the community you live in. After moving to Rocklin in 1987, she wrote Rocklin-based articles for the Placer Herald. She currently serves on the board of the Rocklin Historical Society (RHS), designing rotating displays and publishing articles for their newspaper, the Quarry Quarterly.
Gloria has also served as a member of the Rocklin Friends of the Library (RFL) for many years. Not only does she assist with day-to-day projects at the Rocklin Library, she also helps manage the Little Free Library program in Rocklin. She founded the "Rocklin Reads" program, which supports and promotes local authors and bridged a partnership between the Historical Society and the Friends of the Library.
Through her efforts of storing, pricing, and managing inventory for book sales, Gloria has succeeded in helping to raise thousands of dollars for the Rocklin library, all on a voluntary basis.
"Gloria's commitment to the Rocklin Historical Society has helped to make our history come alive and reach more residents in our growing city every year," Michelle Vass, President of the RFL, explained. "She has invested in Rocklin's past, present, and future, and is wholly deserving of this recognition.
Daniel Taylor – Pioneer Award Honoree
Daniel Taylor received the Pioneer Award for his strong leadership skills within community groups and his dedication to bettering his community through volunteerism.
Daniel has been a member of the Rocklin Historical Society since 2017 and served on the Placer County Grand Jury for two years. He wore many hats at Rocklin High School, assisting the varsity baseball and basketball teams by running games and keeping score. He coached teams at Rocklin High's summer camps and published Memory Books for coaches and teammates for nearly twenty years. To add to these efforts, Daniel also served as the Lion's Club President (twice) and treasurer, and has been a member since 1972.
Daniel's son, Stephen Taylor, attests to his father's endeavors. "I don't think there are many people that have lived in Rocklin for as long as he has and have given so much of their time to so many different groups and organizations. He is certainly deserving of this award and the recognition that comes with it. He loves the Rocklin community and this award would be very meaningful to him at this point in his long life."
Today, Daniel is ninety-one years old and has been a proud resident of Rocklin since 1968.
related
Roseville Today is locally owned & community supported.
(20+ years strong)
Welcome to the brighter side!