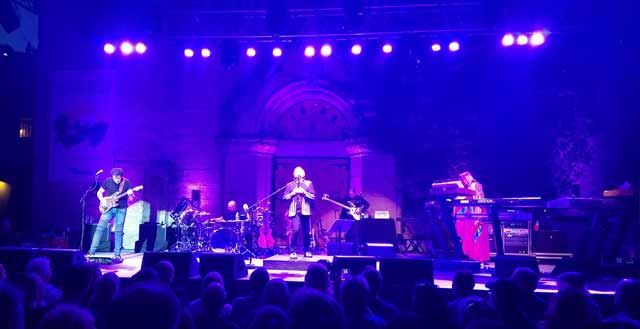 YES featuring Anderson, Rabin, Wakeman deliver impressive performance
Saratoga, Calif. – Coming of age, few bands captured a young man's imagination quite like the pioneering progressive rock band, YES. Their complex arrangements, flawless musicianship and otherworldly songs provided what felt like endless hours of musical exploration. For a young mind trying to absorb it all, it was an extraordinary odyssey.
Fast forward a few decades later, and the band YES featuring Anderson, Rabin, Wakeman returned to the stage last night atop the Mountain Winery in Saratoga to deliver a performance well-deserving of their status among the rock n' roll elite. One standing ovation after another was the norm on this unseasonably warm Bay Area night and much more than simply an homage to their well earned musical legacy. From the audience's reaction, as well as to our own ears, it was a celebration that these world class musicians can still "bring it" like few others.
From the moment band members strolled on stage, it was clear they were relaxed, in great spirits and ready for some fun and laughs. All evening, the gratitude flowed back and forth between band members and the audience. They reached across the years by delivering songs that spoke to all generations of their fans.
Virtually every song felt like the highlight of the evening and choosing the best would be like asking who's your favorite child.
One thing that was crystal clear, the band warmed up quickly and kept cooking all night. On guitar, Trevor Rabin's versatility allows him to jam songs from the entirety of the YES catalog with precision. Rick Wakeman reminded us how important a role his keyboard playing was to the sound of YES. His work was pure delight and transported us back in time to the early 1970's. Jon Anderson's vocals shone with great clarity and pitch. Lee Pomeroy's bass playing was impressive and respectful of Chris Squire's legacy. His harmonies are a great fit in the mix. Louis Molino III was rock solid on drums with a drum kit that sounded amazing. YES came to play and delivered a heartfelt and energy packed performance.
YES at Mountain Winery in Saratoga
Set 1
Cinema – A little instrumental jam to get things rockin'
Perpetual Change
Hold On – The band started to cook a little here with an extended jam that foreshadowed much more to come.
South Side of the Sky – Highlight number one of the evening for us. Tight and powerful version.
And You and I – Beautiful song, beautifully done.
Lift Me Up
Rhythm of Love – Good energy and song from perhaps their most underrated album, Big Generator.
Set 2
I Am Waiting
Heart of the Sunrise- Highlight number two for us. Powerful beyond words live.
Awaken – Spacey goodness.
Owner of a Lonely Heart – Shake, shake yourself! Classic favorite that they turned into a super long jam. To everyone's delight, Wakeman and Rabin walked around the audience while jamming. Snippet's of Cream's Sunshine of Your Love rocked the house.
Roundabout – C'mon it's Roundabout for heaven's sake!
As a lifelong YES fan, it's always exciting to see this incredibly talented band perform. While undergoing many permutations over the years, we came away very impressed with the strength of this year's lineup. YES featuring Anderson, Rabin, Wakeman delivers an evening of entertainment that is a rare find these days.
Roseville Today is locally owned & community supported.
(20+ years strong)
Welcome to the brighter side!