Festival Brings Together Diverse Group
Pasadena,CA- As local favorites Los Lobos kicked off their Sunday set at Arroyo Seco Weekend, fans cheerfully danced in a tribal-like procession toward the stage. A short distance back, it was time to stretch out in the shade, rest weary legs, sip a cold IPA and soak in the sights.
Small children explored the water's edge, parents chatted and snacked on a tasty bites from one of the many great L.A. eateries present. Others ventured off in all directions, snapping photos, checking band schedules and roaming the beautiful grounds of Brookside at the Rose Bowl in search of adventure in the golden sunshine of this southern California city of Pasadena. One thing was clear, a diversity of backgrounds, ethnicity, political views and age groups joyfully coalesced amidst the great unifier and common language that we share, music.
If Arroyo Seco Weekend, now in its second year was one thing, it was many things. Put on by GoldenVoice, (think Coachella, StageCoach), ASW is for passionate music fans, culinary enthusiasts and a festival for family to celebrate a weekend together. (Kids under 10 are FREE!)
We had the opportunity to hang out and swap stories with fans from near and far. A middle aged woman from Utah was all smiles and happily surprised by the more relaxed attitudes of California culture. She quipped, "This is nothing like Utah." Richard Bond, an cheerful man of around 60 years of age from Bath, England and undeniably the most prolific concert-goer we've ever encountered touched down in L.A. for a couple days after seeing Dead and Company in New York and before jetting off to see Taylor Swift. Local 20-something Monica was excited to see legend Neil Young and arrived early to dance and party the night away.
Friendly Crowd
The level of friendliness and politeness was striking and surprising at this event. The amount of thank-you's between attendees, employees and volunteers was impossible to miss for an event of this size. Genuine gratitude and patience seemed to be the order of the day from this chill and overly polite crowd.
Police Presence
A highly visible, yet relaxed police presence from the Pasadena PD appeared to add to the comfort level. Families with children in tow seemed very relaxed and comfortable at the event.
Sound Experience
Much improved over 2017, sound dispersion is an inherent challenge to outdoor festivals. For best sound, you'll need to get as close and centered to the stage as you can. ASW made significant improvements this year. Sycamore Stage had great sound and volume in almost all locations. The smaller Willow Stage was ideal. The main Oaks Stage was improved, but more projection and volume toward the back is needed.
The Music
A rock-solid lineup of artists at ASW provided a strong link to the past and an opportunity to discover the talented present. Just a few of our highlights below.
Robert Plant
Every trip to Los Angeles and we're always amazed at the quantity of Led Zeppelin t-shirts proudly worn by fans young and old. With Robert Plant on the bill, one is reminded that 50 years on, Led Zeppelin's impact still reverberates strongly in this city. Opening with The Lemon Song and hitting some Zeppelin songs early was indicative of that influence.
Neil Young and Promise of the Real
Still kicking ass and headlining at 72 years old. Unpredictable Neil opens with 18 minute jam session with high energy and part time backing band Promise of the Real while weaving in great songs throughout the night. Some of our all-time faves included Cortez the Killer, Hey Hey, My My and Down by the River.
The Pretenders
Chrissie Hynde sounded fantastic and the band's rock-a-billy guitarist added some high energy shred. It's been over 30 years since we've seen them last and they still sound fantastic.
Los Lobos
One of the bands we always love to hear. Great musicianship. Their tunes are soothing and happy at the same time. We chilled in the shade with a beer for an "almost" siesta as Los Lobos played in the background. Delightful.
Alanis Morisette
Alanis was all smiles, great energy and was a crowd favorite. Great setlist. Hope to catch another of her shows…Thank U.
The Revolution
Prince's backing band had the crowd dancing and singing to those favorite pop funk songs of the 80's. Band sounded tight, yet relaxed. Dance time.
Kamasi Washington
What a treat! Our first experience listening to American jazz saxophonist, Kamasi Washington. Enjoyable throughout and brought the man who taught him everything out for a jam, his dad. Cool stuff.
Arroyo Seco Weekend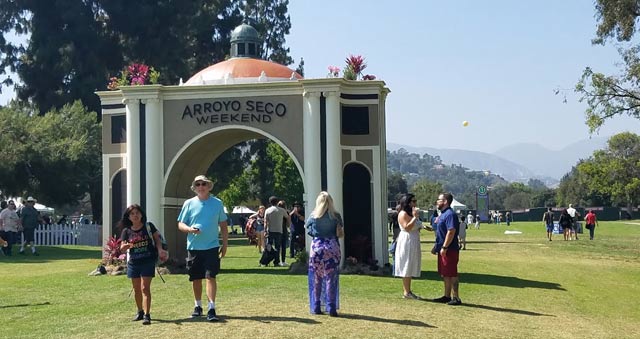 Our expectations were high for this second installment of Arroyo Seco Weekend. We were impressed on all levels. Easy access from I-210 and quick free parking. The music was top-notch across the board and the food and drinks were delicious. The stage and vendor layouts were changed around this year and the improvement in traffic flow made it much easier for fans to switch between stages or grab a bite. ASW is an enjoyable weekend to enjoy as a family, a couple or as a solo adventurer. The southern California location and weather make it close to perfect.
Can't wait to see what's on tap for Arroyo Seco Weekend 2019!
https://www.arroyosecoweekend.com/
Roseville Today is locally owned & community supported.
(20+ years strong)
Welcome to the brighter side!