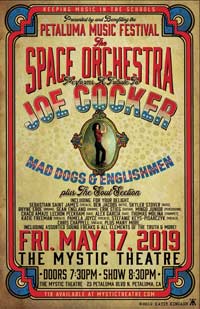 With a little help from friends
Petaluma,CA- On a cosmic night in April 2018, fourteen North Bay musicians took the stage in front of a sold-out crowd to recreate the legendary night in March 1970 when twenty stars converged at New York's Fillmore East.
Featuring songwriter Leon Russell as bandleader and up-and-coming British vocalist Joe Cocker, the New York show was recorded and released as the live album Joe Cocker: Mad Dogs and Englishmen, now a rock-and-roll classic.
Purchase Tickets:
The Space Orchestra performs a tribute to Joe Cocker's Mad Dogs & Englishmen
Friday, May 17, 2019 8:30 PM
Mystic Theatre & Music Hall, Petaluma, CA
21 & over
General Admission $25.00
Friday, May 17, 2019 8:30 PM (Doors open at 7:30 PM)
Ticket Price: $25 in advance / $30 day of show
Restrictions: 21 & over
---
Like the original, Petaluma's Space Orchestra is an eclectic mash-up of all- stars known for their stellar work in other top Bay Area bands. With a three-piece horn section, five back-up singers and a powerhouse rhythm section of two drummers plus a percussionist, the group recreates the mighty sound of the live album, in exact order, side A through side B.
Husky-voiced Sebastian Saint James of The Highway Poets brings Cocker's lead vocals roaring back to life, driving the band through hits by the Rolling Stones, Isaac Hayes, Otis Redding, Bob Dylan and more. Highlights include Delta Lady, Space Captain, Feeling Alright, and an unforgettable version of She Came in through the Bathroom Window. This is big sound at its best.
Don't miss your chance to see the Space Orchestra light up the universe.
The Space Orchestra:
Sebastian Saint James – Lead Vocals
Ben Jacobs – keys
Skyler Stover – Bass
Rhyne Erde -Drums
Sean England -Drums
Erik Stieg -Guitar
Mingo Junior – Percussion
Thomas Molina – Trumpet
The Space Choir:
Chris Chappell – Vocals
Katie Freeman -Vocals
Pamela Joyce – Vocals
Stefani Keys – Vocals
Shawna Hervé – Vocals
The Soul Section: The Soul Section is a Bay Area musical collective with it's primary focus on funk and soul music.
This group of experienced musicians share a passion for live performance of great songs from a rich musical tradition.
The core of this great funk and soul band is the rhythm section, which started playing together more than twenty years ago. The beat begins and ends with drummer Mike Perez. Mike is an encyclopedia of drumming history and styles. His experience playing all types of music gives him the musical vocabulary to deliver an authentic performance, true to the genre.
In lockstep with Mike is bassist Pete Donery. Mike & Pete played for years and developed an intuitive groove which has become the backbone of The Soul Section. Pete has always been drawn to the driving bass lines of Motown, Stax, and James Brown. He understands how a bass line can be an irresistible force to get a dance floor bumping. For many years, Pete and Mike were the rhythm section for The Violet Fox Band, holding down the bottom for this successful Motown and Soul revue.
Pete shared backline duties in The Violet Fox Band with another Soul Section member, guitarist Brian Clothier. Brian comes from a rock background, as evidenced by his searing solos, and has used his blues and rock influences to achieve a funky rhythmic style that fits right in the pocket. On keyboards and vocals is Vince Nash. Vince is one of the lucky ones that has never had to take a day job. He has earned a living playing music his whole life. His versatile playing style and vocal range fill out this talented rhythm section. Hundreds of performances have formed this rhythm section into a cohesive unit that locks on to a groove and keeps it going all night.