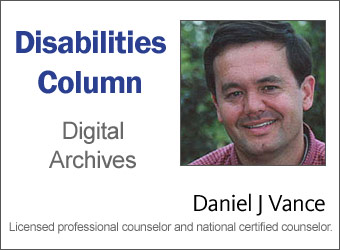 About nine months ago, I featured 22-year-old Ohio State student Harley Jo Skorpenske, whose open letter to all the people who had criticized her for using handicapped parking spaces had gone viral on Facebook.
Skorpenske has lupus, which the National Institutes of Health defines as a "serious and potential fatal disease that mainly affects young women." It can affect the joints, skin, kidneys, heart, lungs, blood vessels, and brain. Due to lupus, Skorpenske has had one lung collapse on three occasions and so she can't tolerate walking long distances. Her disability can't be seen, i.e., it's "invisible."
In a recent telephone interview, Skorpenske said, "After the Facebook post went viral, I was contacted by chronic illness sufferers from around the world. They encouraged me and shared their experiences. People from Ohio State contacted me, too."
Skorpenske said she had been looking for a disability group to join while at OSU and had attended club meetings involving people with disabilities, but soon realized the experiences people with "invisible" disabilities had were unique. After receiving an email from another OSU student with lupus, she and this student began a club for students with invisible disabilities.
As a group, she said, "We do different things, such as having round-table discussions about aspects of invisible illness, which could include such things as ways of communicating with professors or also having a full-time job or managing relationships related to our illnesses. We get input from everyone and have guest speakers who typically are people with an invisible illness out in the 'real' world. They may have a job full-time or be married with children. They tell how they deal with it and how they got to where they are with it."
The group's current advocacy project involves raising awareness for people with invisible disabilities concerning handicapped seating on campus buses. Currently, the buses have pictures of a wheelchair over these sections. Skorpenske's group would like additional signage explaining not all disabilities can be seen.
As for students interested in starting similar campus groups, she said, "My biggest advice is to find one or two others with an invisible illness who are willing to put in a lot of time and work, especially in the start-up phase. For example, I spent time over the summer writing the constitution so we could be approved as an official campus organization. Right now, we have between eight and twelve people coming to our meetings."
Roseville Today is locally owned & community supported.
We have NO affiliation with print, politics or corporate media.
Now in our 20th Year!