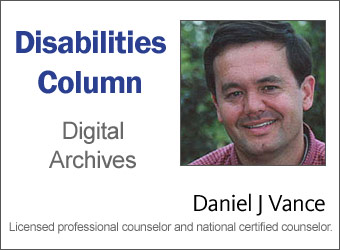 Pat Croom reads this column in the New Bern (NC) Sun Journal. Not long ago, like so many others, she responded to my request asking readers to send in their personal stories about disability. Due to her disability, Pat was unable to speak for a telephone interview. So with her permission, I have included here an edited version of her email.
She wrote: "I just read your column on disabilities and wanted to thank you for allowing us to share how we live with a disability. I was diagnosed with Primary Lateral Sclerosis (PLS) in June 2000. This is a rare neurological disorder.
My husband and I love to dance. Around 1995, I found myself sitting more than dancing because of cramps in my lower legs. Little did I know this was an early PLS symptom.
In 1998, I began falling due to poor balance and had to use a cane. I started going from doctor to doctor to find out what was wrong. When I received my diagnosis, my sister insisted we move from New Bern to Garner to be near her and her children. She built us an (accessible) home next door to her. After 38 years in New Bern, we moved in 2001.
Now I use a wheelchair. I still have some use of my hands. My voice is gone and I use a [special device] to communicate. I've never asked God why and I'm not bitter. The hardest thing is dealing with how other people treat me. I've lost friends that were once like family. I try to remain positive and thank God every day for my family and church. My devoted husband of almost 50 years makes it possible for me to remain home.
PLS has changed my appearance. My facial expressions have become exaggerated and I've gained weight. But life is good.
I'm part of an online support group, PLS Friends. PLS is often confused with ALS (Lou Gehrig's disease). PLS usually progresses slower than ALS. Mine has progressed fairly fast and affects my legs, arms, speech, and swallowing. I sometimes think I have ALS, but that really doesn't matter. I refuse to go through test after test (and some are painful) to find out. I'd rather enjoy life than dwell on my disability. So I take one day at a time and do what I can. Thanks for letting me share my story."
Roseville Today is locally owned & community supported.
We have NO affiliation with print, politics or corporate media.
Now in our 20th Year!