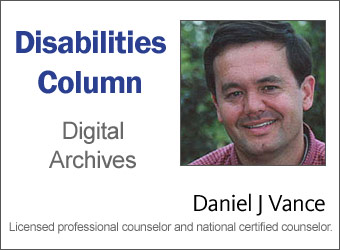 As his bio states, Cincinnati Enquirer sports columnist Paul Daugherty has covered five Summer Olympic Games and "nearly every major American sporting event." He earned the AP Best Sports Columnist Award in 2014. Along the way, he also faithfully covered the life of his now 26-year-old daughter Jillian, born with Down syndrome. You will experience his poignant story this week and next.
The National Institutes of Health says Down syndrome is "a condition in which a person is born with an extra copy of chromosome 21." People with Down syndrome may be born with heart disease and later can develop dementia. They also may have intestinal, eye, thyroid, hearing, intellectual or skeletal challenges. Each affected person experiences Down syndrome differently.
In a telephone interview, 58-year-old Daugherty said, "We didn't know beforehand about Jillian (having Down syndrome) and didn't find out until the day she was born." He was covering the World Series in San Francisco that year and received a telephone call from his wife concerning their child being born early. He hurriedly flew home to Cincinnati and before the birth drove from the hospital to home to pick up their son, so he could see his baby sister. It was at home when Daugherty learned Jillian had Down syndrome.
And he said, "I had a negotiation with God at that moment. I said, 'Take me. Don't do this to this newly born child.'" His anxious fears soon gave ground to an abiding love for a daughter who would steal his heart. Of his daughter today, Daugherty said, "I don't know a better person. My mother said Jillian is the person the rest of us should be. I don't know how to describe her other than to say she only really cares about who loves her and who she loves. That's about it."
In March 2015, Daugherty released a memoir, An Uncomplicated Life, which features his relationship of love raising Jillian. He became a national advocate for people with Down syndrome, traveling the nation sharing his story in print and in person. In the process, he received the National Down Syndrome Congress National Media Award in 2016 and became the keynote speaker for this year's National Down Syndrome Congress convention in Orlando. Daugherty's An Uncomplicated Life is available through Amazon.com.
Next week, learn his feelings concerning Jillian's relatively recent marriage to husband Ryan, who also was born with Down syndrome.