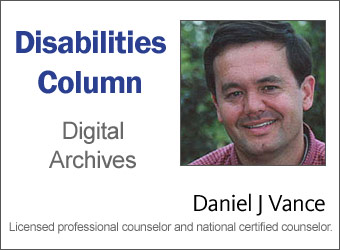 I enjoyed talking with Steve Antonino of New York City. At 29, he has muscular dystrophy, uses a power wheelchair to get around, and has his head on straight thanks to friends and family.
In a telephone interview, Antonino said, "I was able to walk up until the fifth grade, when I was about 12. I had a very large group of friends while growing up and had parents who were always supportive. As for molding my character, I look to my parents. My mother was my rock."
Antonino said his disability sometimes brought with it depression, through which his mother always was there to hold him up. When he was in the hospital for all his many surgeries, she had "this way" of calming him down.
He said, "Then when I was going off to college (in 2004), my mother suggested it would be a good idea for me that first year to have a (service) dog. I was studying architecture at New Jersey Institute of Technology (NJIT). I've always found architecture fascinating, especially the history of architecture more so than the actual building of buildings."
Getting through college wasn't easy. While attending his close-knit high school in his teen years, he had a relatively large circle of friends and family surrounding him; but at NJIT, he had just himself and a loyal service dog.
After his first dog passed away, he eventually would own a second (named Keir) acquired through Canine Companions for Independence. Keir helps Antonino by opening doors, grabbing objects off the floor, bringing items to him, and helping him deal with cashiers in retail stores. Just recently, Keir was able to pick up a dropped wireless telephone.
He said, "And there's nothing like having a dog nearby when you're not feeling well. They know when you're not doing well and won't leave you until they know you're better, which goes for everyone in the household, including my mother."
Today, he lives with her while seeking employment. With his limited physical abilities and power wheelchair, he said getting out "into the world" has been problematic at times. He has been seeking an employer who will allow him to work from home. Several years after earning a master's degree in infrastructure planning, he's still searching for work.
Even so, he said, "You can't be limited by the circumstances you've been doled out."